What is this for?
What would happen in the church if everyone was headed in the same direction? If everyone truly understood what it meant to follow Jesus and how to put that into practice in their lives? What if everyone then lived it out? That is our goal with Purpose Driven Life. We want to answer the question "What on Earth Am I Here For?"
what will that look life?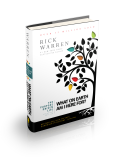 Through weekend services, small group studies, and regular reading assignments from the book "Purpose Driven Life: What on Earth Am I Here For?", our entire church family will focus on the same spiritual themes for 42 days. Imagine the impact on Meadowdale, when each person lives out the principles they read about. This impact grows as those individuals live in powerful community with their small group, and reaches its peak when those small groups come together to experience the power of the principles as an entire church! These 7 weeks will bear lasting fruit in all levels of Meadowdale.
How do i participate?
individual participation
Individuals are the heart of the campaign. Each person will complete daily reading assignments from the companion book for the campaign. These readings will be a challenge to reflect on the themes of the journey and apply truths to their lives. Books will be available for $10 in the front foyer starting on December 30th. If you can't afford a book, don't worry, the church will cover the cost if needed.
Group participation
A powerful element of the campaign is encouraging people to experience true Biblical community through small groups. These groups are offered many different times, including on Sunday mornings before the service, Sunday nights, and all through the week. If you are not a part of a group and would like to be, please check out the small group form and our list of available small groups!
Weekend service participation
Each weekend of the campaign, the Pastor will present a message from that weeks readings to help develop the campaigns themes and unify the church as a whole. We are asking everyone to commit those weeks to being at Meadowdale on Sunday mornings.